Cabinet shop owners swear by this machine. It's fast…..safe…..and easy to learn and operate.
Like all Fletcher machines, this thing is built like a beast. If you want cheap and flimsy, you're barking up the wrong flowering dogwood. The design key is the button-operated four-position spindle that, on command, efficiently positions the insert blades to cut the different shapes needed to create a door.
EZ-Door Is The Only 5-piece Door Machine In The Industry With These Features: 
Heavy-duty linear bearing vertical slide rails allow for industry-best smooth and secure operation of the clamp fence – safely hold down parts during cutting.

Eliminate chatter. Minimize waste.

Cutter height adjustments are push-button controlled and self-cleaning at each stop.

Reduce maintenance. Increase accuracy.

2-inch heavy wall steel tube framing guarantees every EZ Door machine is built with the same integrity as million-dollar high-speed, production equipment.

Built tough. Built smart.

A quick-change cutter height adjustment block can be calibrated for each cutter stack, eliminating the need for "on the fly" cutter height adjustments.

Faster. Better.
But wait. There's more:
Single-button selection for rail/stile, cope, panel, and door edge

10 HP 230/460V 60Hz spindle motor

Safe, pneumatic clamping fence

Standard arch template set included (7/8″ to 2″ arches)

62" table travel length standard with circulating ball bearing slides, cut rails to 59″ and panels to 55″

All key functions PLC controlled

Cut mullions for glass doors

Cutter set included

And, made and assembled in Lexington, NC
Specifications*:
| | |
| --- | --- |
| Motor | 10  HP 230/460V 60Hz, usable at 208V 60Hz |
| Stacked spindle | 6″  capacity, 1¼" bore |
| Air requirements | Minimum 70  PSI |
| Dust collection | 4″ for standard machine |
| Table | 62″ travel length for standard machine |
| Machine weight | 1250 lbs |
| Footprint | 112″ width by 39″ depth |
| Work height | 37″ to 39″  (adjustable) |
| Working width (table slides) | 96″  to129″ |
| Working depth (table slides) | 41″ to 48″ |
| Maximum arch width | 24 ½" for standard templates |
| Maximum straight cut length  | 59″ for rails, 55″ for panels |
| Maximum arch height  | ⅞" to 2″  for standard templates |
| Maximum material thickness | 1″ for standard machine |
| Minimum rail material width | 1½" plus the depth of cut |
*The EZ-Door machine can be customized per your specifications. Call or email us to learn more. Specifications are subject to change.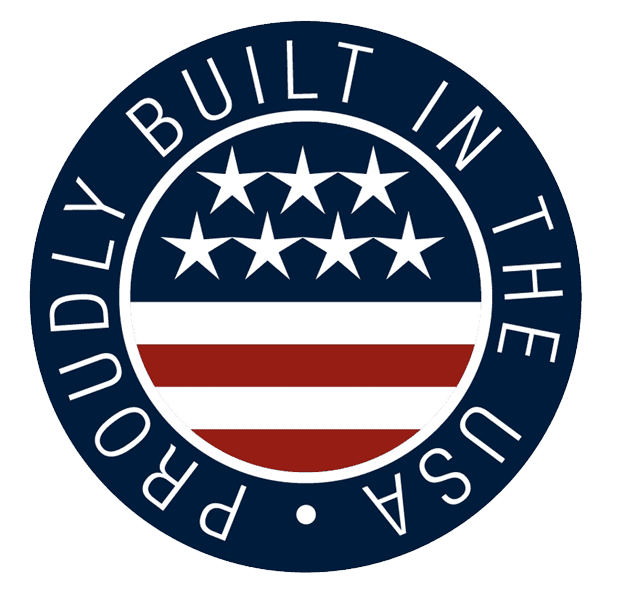 EZ-Door is Manufactured in Lexington, NC, USA, by Fletcher Machine Industries.
Family-owned and operated since 1962, Fletcher has built a name for itself by building machines that, frankly, few others can. The company specializes in custom machining and fabrication services through a combination of "old world" craftsmanship and cutting-edge technologies. Fletcher's technicians have over 50 years of experience servicing woodworking equipment and other industrial machinery.
Door Tooling: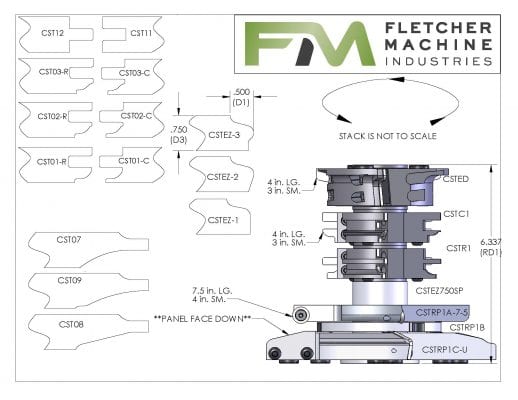 Motor Specifications: