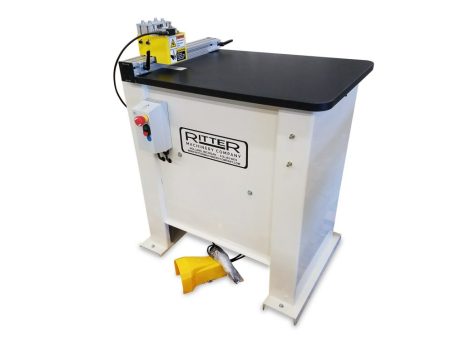 Ritter R220T – Double Spindle Pocket Hole Machine
R220T – DOUBLE SPINDLE COUNTERBORE TUB
1.5 HP Spindle Drive Motor, TEFC
1" Spindle Centers
Manual Controls, 110 V, TEFC
Foot Actuated Boring Cycle
Tooling included
14 Degree Double Spindle
6,100 RPM Spindle Speed
Ball Bearing Collet Guide Bushing Block
24" X 30" Table Area
Adjustable Fence with (2) Stops
Designed and Manufactured in the USA
Additional options for this machine include:
R220T3 – 1.5 H.P. 3-Phase 230/460 Volt
This machine is used for drilling a double pocket hole – hole spacing of 1″ – for cabinet face frame assembly. No other machine in the marketplace compares to the R220T for its durability and dependability. Also available in a tighter spacing pattern – just ask!
Need a single spindle? Check out the R200T Single Spindle Pocket Hole Machine!

---
ⓘ Unlock Your Best Price!
By clicking the button below, you'll receive personalized pricing tailored to your needs, including available discounts and accurate shipping costs. We're committed to offering you the best value, but some of our special rates can't be displayed online.
Don't miss out – request your quote now!