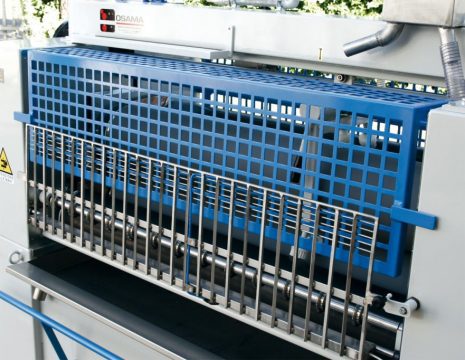 Osama S4R-P Top and Bottom Glue Spreader
AUTOMATIC 4 ROLLER GLUER WITH 2 MOTORS
The Osama S4R/P Glue Spreader can be equipped with a large compliment of options for PVA, UREA, & Solvent based adhesives. This S4R/P is equipped with direct 4 motor independent drive system of the spreading rollers and doseing rollers to insure a perfect application of adhesive. Options can include automatic cleaning, wheels, stainless steel parts, special solvent proof paint and rollers and many other options. Working widths are available from 1000mm-2200mm
This 4 roller gluer, without doubt superior to the S4R model, enables the quantity of glue dispensed to be uniformly adjusted. This includes gluing MDF panels and paper clad panels, clearly allowing for the type of lining on the rollers, which must be suitable for the type of production envisaged, often involving extremely thin veneers. By slightly increasing the force on the dispenser rollers and carefully adjusting the thickness and the inverter drive speed an acceptable compromise can be achieved for various applications.
The heavy structure and also the roller cores, designed with greater thickness compared to previous models, enable high work rates to be sustained without incurring any particular problems.
Useful working widths of 2200 mm can be achieved using these materials, increasing the installed horsepower and directly driving the spreader rollers.
Replacing the rollers for maintenance thus becomes a more simple operation, with supports divided in half and easy bayonet coupling.
Clearly equipped with clean contact consent to the electric control panel for line consent.
This 4 roller version gluer is available with 4 drive motors, two for the spreaders and two for the dispensers, as an optional.
Various accessories are available, even for cases where the pieces to be glued are extremely short. This gluer is particularly suitable in several production fields, for example in the building sector, for technical, expanded and soundproofing panels, for plasterboard, etc…. and also for sponge and mattress production. Always ensure that the unit is configured correctly, especially for the particular type of glue to be used.

---
For current product availability and our most competitive price delivered, please contact us using the "Request A Quote" button below. Due to vendor restrictions, we cannot always advertise our highly competitive pricing online.