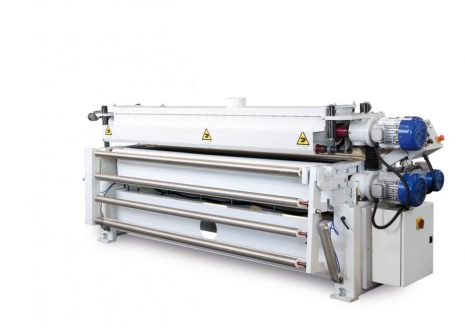 Osama SP-RSI Panel Cleaner
TOP AND BOTTOM ROLLER BRUSHER FOR MDF, CHIPBOARD AND OTHER PANELS
The SP-RSI has a heavy structure and is thus able to work in automatic lines, even for three shifts.
The brush rollers can be designed and built with different bristle types, synthetic, nylon, vegetable and abrasive.
Rollers can be used with spiral formations to remove dust and heavy residue, or with abrasives to scrape the surface. Natural bristles such a tampico can also be used for finishing work in painting lines.
The structure is designed to accommodate large-size panels up to 2200 mm wide; non-standard sizes can be catered for on request.
Changing rollers is easy as the unit mounts "split" supports divided in half, with independent drives for the brush rollers and the machine.
This machine can be fitted with an electronic inverter or a mechanical variator, automatic lifting for the top roller to set the thickness with monitor for digital position display, electric control panel preset for line consents, with forward speed and thickness managed from the main control panel.

---
For current product availability and our most competitive price delivered, please contact us using the "Request A Quote" button below. Due to vendor restrictions, we cannot always advertise our highly competitive pricing online.